Stockport Garrick Open Days 2019
13 & 14 September 2019, 10.30am - 4pm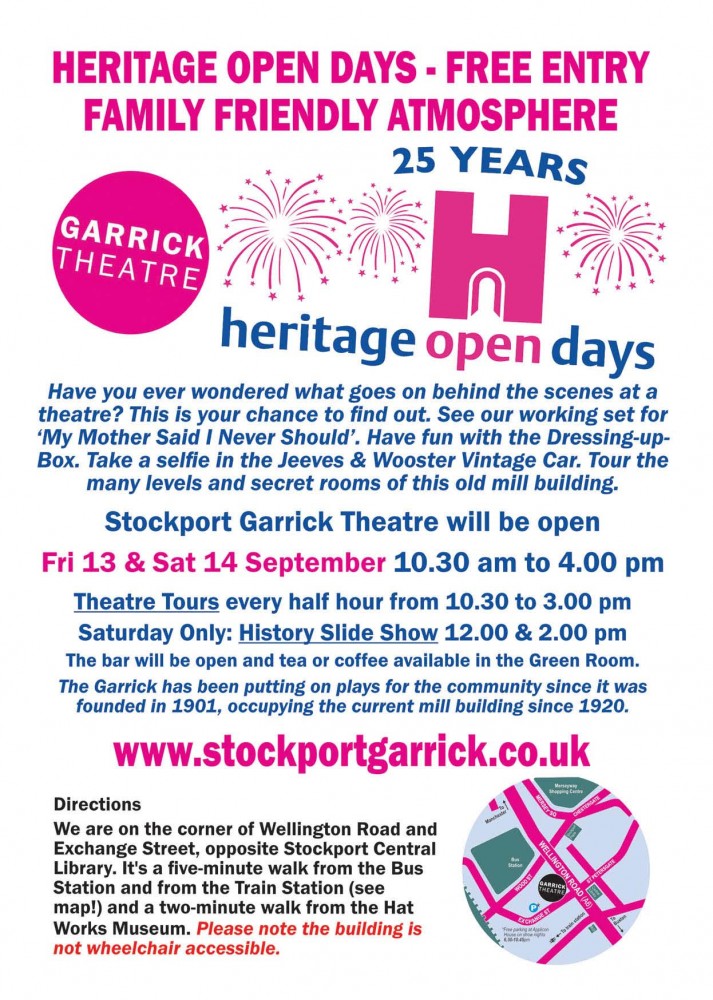 Have you ever wondered what goes on behind the scenes at a theatre? This is your chance to find out. Between 10.30am until 4.00pm on Friday 13 & Saturday 14 August, Stockport Garrick Theatre will be opening its backstage areas to the public – and the best part is that entry is FREE!
Both days are part of the nation-wide Heritage Open Days Festival 2019.
The opening play of our new season, My Mother Said I Never Should will be set up on-stage so you can take a look at what happens behind the scenes on an actual working production.
• Have fun with the Dressing-up Box.
• Take a selfie in the Jeeves & Wooster Vintage Car.
• Tour the many levels and secret rooms of what's officially recognised as Britain's oldest "Little Theatre".
Tours will take place every half hour from 10.30am to 3.00pm. Each tour is limited to a maximum of 15 people. On Saturday only, there will be a History of the Garrick slideshow at 12.00 noon & 2.00pm
The bar will be open and tea or coffee will be available in the Green Room.
Entry is FREE, all you need to do is turn up on the day, although it would be helpful if you could register your interest in advance via the button below. As long as you select the e-Ticket option, no fees will be charged, but if you want to simply just turn up on the day, that's fine too.
Please be aware that navigating the backstage areas does involve ascending and descending a number of steps. Other than that, the Open Days are suitable for the entire family. Regular Garrick attendees should be aware that the car park next door will NOT be open for the Open Day, although it WILL be open as normal for the evening shows.
The Garrick is an atmospheric "theatrical" building that is much larger on the inside than it looks on the outside - we very much hope you'll choose to take a look around.
To learn more about the National Heritage Open Days Festival in Stockport, please click below: